What to do next...
Our website and our most recent Ofsted report should give you most of the information you will need to make an informed decision about your childcare. If you like what you read, make an enquiry with us (via our 'Contact Us' page) for current availability. If we can offer you the childcare you require we will arrange an appointment with you to view our Nursery, where our experienced and knowledgeable Senior Practitioners/Room Leaders will be delighted to show you around and answer all of your childcare questions and our Management Team will be happy to meet with you to discuss all aspects of the service we provide.
After you have visited us and you feel that Garden House is right for your child and family, then please complete and return the required forms and booking deposit fee. Once these have been received & processed, you will receive written confirmation of your child's place and start date. The Room Leader will contact you to arrange your child's FREE 'Trial Sessions' to help them, and yourselves, settle-in before their start date.
We look forward to hearing from you!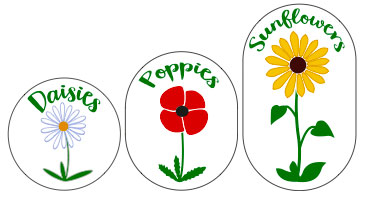 Daisies = Baby care, 0-2 yrs. Poppies = Toddler care, 2yrs. Sunflowers = Pre-School, 3/4 yrs